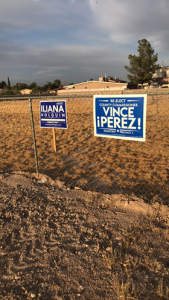 County Commissioner #3 was for sure the most interesting race for local politicos to keep their eye on this year, and it ended up having the most noteworthy upset of the 2020 Primary season. There was a lot of drama in this one, involving backstabbing and betrayal, but I will let you all go to the Lionstar for those stories. 
I'll give you my opinion on why Iliana ended up winning in my next post, as I really don't think the finance reports give you that answer. But finance reports do give you an idea of how successful campaigns operate, and the amount of money that is involved. And that right there is why I do this blog. Anyway. 
Before we get to what happened in the Runoff, let's take a look at how we got there. Here are the March 3rd Election Results :
| | |
| --- | --- |
| Vince Perez | 41.8% |
| Elia Garcia | 14.27% |
| Eduardo Romero | 5.75% |
| Iliana Holguin | 38.9% |
The following covers all the way up to March 3rd. Since there is no "final 8 days" report that is due on Election Day, I had to make my own by using the "8 day before" report from the runoff, and going item by item and only selecting those dated on March 3rd or before. So on my next post I will give a report for the contributions and expenditures that occurred during the Runoff. So again, this post is only covering up to the March 3rd election. 
| | | |
| --- | --- | --- |
| | Total Contributions | Total Expenditures |
| Vince Perez | $79,045 | $82,190.65 |
| Elia Garcia | $6,400 | $4,577 |
| Eduardo Romero | $0 | $2,867 |
| Iliana Holguin | $46,536 | $68,392.91 |
| | |
| --- | --- |
| Consulting/Management | |
| Vince Perez | $32,530 |
| Iliana Holguin | $2,680.19 |
| | |
| --- | --- |
| Blockwalking | |
| Vince Perez | $24,442.90 |
| Iliana Holguin | $2,090 |
| | |
| --- | --- |
| Mail | |
| Vince Perez | $9,565.86 |
| Iliana Holguin | $29,723.77 |
| | |
| --- | --- |
| Signs | |
| Vince Perez | $0 |
| Iliana Holguin | $4,484.93 |
| | |
| --- | --- |
| TShirts | |
| Vince Perez | $0 |
| Iliana Holguin | $1,297 |
| | |
| --- | --- |
| Campaign Literature | |
| Vince Perez | $7,056.92 |
| Iliana Holguin | $7,867 |
| | |
| --- | --- |
| Volunteer Appreciation  | |
| Vince Perez | $443 |
| Iliana Holguin | $2,796.86 |
| | |
| --- | --- |
| Poll Sitting | |
| Vince Perez | $0 |
| Iliana Holguin | $5,250 |
| | |
| --- | --- |
| Social Media | |
| Vince Perez | $873.54 |
| Iliana Holguin | $3,148.99 |
| | |
| --- | --- |
| Office Supplies | |
| Vince Perez | $3,750.18 |
| Iliana Holguin | $288 |
I didn't include the breakdown for Elia and Eduardo for obvious reasons. Their expenditures were just the filing fee and a few signs. The lack of their campaign activity shows in the election results. I was  hoping to see more out of Elia Garcia, being that she's already an Elected Official (Socorro Mayor), because it would have been really interesting to see what the results would have been if Elia had mounted a $50k campaign.
One interesting thing on Eduardo' Romero's report was that he tried to make it appear as though he received contributions. But the contributions he claimed were his own money. He should have listed it under Loans, which do not get counted as contributions. Instead, he listed it as an In Kind Contribution to himself, which does get listed under Total Contributions. So if you look at his report it will say $2800 was contributed to him. But that's why you come here, so you can get the real scoop 😉
Okay, so now for my take on the expenditures for Iliana and Vince. 
Both Iliana and Vince went heavy on management, but I am not showing it in the expenditures here for Iliana, because most of it was In Kind. Crazy that Eddie didn't want to charge his wife for campaign services. Also, fellow former City Rep Lily Limon, also gave her masterful strategic consulting services to Iliana for free, which was documented as an In Kind contribution. The consultant that was actually getting paid on this campaign was former State Rep Norma Chavez, so congratulations to her on getting her client into the runoff and to eventual victory. 
Vince Perez on the other hand spent twice the amount of what he should have on Consulting and management fees. No, these consulting expenditures didn't go to Jaime Abeytia (I think I did put $800 that went to Abeytia for "consulting" but he did get paid a lot more for blockwalking). Juan Garcia got a good portion of that as Field Director, and that was money well spent as he had a monster field program to manage. But the majority of it went to Forma. That's right, the group that Abeytia hates very much, was hired by his best friend and boss.
I remember a post he did about Joshua Carter, basically calling him an asshole and backstabber for joining Forma, because Forma worked for Carter's boss's opponent. So if that makes Carter an asshole, what does that make Vince for hiring Forma? 
While Forma may have come through for Claudia Ordaz, they couldn't do it for Vince. It appears that they were hired mostly to cover mail, and I guess some of that consulting fee went towards the actual mail and not just Joshua Carter's pockets. But still, Vince was heavily outspent in the Mailer category, and that was a big mistake. Big mistake doing so little, and even bigger mistake paying Forma to do it, especially when you have experts like Abeytia to do it for you. 
What Vince did do right was blockwalking. If it wasn't for this, or if Iliana did more blockwalking than she did, Iliana likely would have finished ahead of Vince. But it may be in fact true that the Holguin campaign did a lot of blockwalking with volunteers, as they actually spent slightly more in campaign literature than Vince, and the only reason to spend that much on lit is because a shit ton of blockwalking is being done. Also, we can see Iliana spent much more on volunteer appreciation than Vince did. And I have heard from a couple of people on the inside that Iliana absolutely had a dedicated group of real volunteers that did real work. So Iliana clearly did a geat job keeping her volunteers dedicated and happy. But even with Iliana having more lit, Vince's campaign probably had more door knocks. But the election results show Iliana's campaign at the very least did enough blockwalking to keep pace with Vince, and made up for the short fall in blockwalking by going heavy in mail and social media, and it was nearly enough to finish on top of Vince on March 3rd. 
Where Iliana wasted her campaign money was on poll watchers. I just don't get the rationale behind a decision like this. It is a runoff election. Do you know what type of voters vote in runoffs? Only voters that already know who they are voting for before they arrive to the polls. Especially during Early Voting! Who shows up on the first day of Early Voting not knowing who they are voting for?? And you're dreaming if you think waving a sign and screaming at someone is going to suddenly change their vote. There are only a few races to vote on in a runoff. The voters know who is on the ballot or they wouldn't be going. Kids, I got stories and stories of campaigns with zero poll watchers whooping campaigns with paid poll watchers. Iliana was going to get the same amount of votes regardless. (The only time there is some rationale to poll watching is if it is a General Election and you are on the bottom of the ballot. But even then, your resources would be better spent on the phones and doors.)
Conclusion
For the March 3rd part of the Primary, Iliana met expectations. She raised enough money, and did all the things that good campaigns do, including a lot of blockwalking, to finish in a close second place.
Despite being the only male to finish ahead of woman candidates on the entire El Paso County ballot (except for Bernie Sanders), Vince Perez's showing was disappointing, and this disappointment would continue into the Runoff election. It is common knowledge amongst politicos that if an Incumbent has to enter a runoff, it usually means disaster (though Jaime Esparza, Peter Svarzbien, Cissy Lizzaraga, and Cassandra Hernandez have recently proven this is not always the case). It means more than 50% of the electorate felt that the person in office needed to be replaced. Really, an Incumbent's only chance in a runoff is that a lot of the non supporters stay home during the runoff, with most of their supporters coming back out to vote in the runoff.
Campaign finance reports can't speak to why voters were disappointed with the Incumbent. But when the Incumbent had more contributions and expenditures, and a large team of experts and staff, and still can't close it out, clearly it shows Vince Perez failed his constituents. Iliana Holguin was smart enough to recognize this. What she really recognized was that Democratic voters were very much seeking to elect women, as the very first reason she gave for running was that there wasn't a single woman on the Commissioner's Court. It is said that 90% of success comes by seizing opportunities when they present themselves, and Iliana deserves the credit for doing just that.