The District Attorney's race should have been the most exciting race this election season. But to be honest, it's been quite dull. There should have been some big names, or like 7-8 candidates. It was surprising that candidates with bigger Name ID and pocketbooks didn't enter the race. There's a few conspiracy theories out there why the candidate selection was small, but that's for another blog post. For now, I want to focus on the actual campaign activity. But first, let's take a look at what the expectations were heading into the race.
Yvonne Rosales was the only candidate with any Name ID headed into this race, as she was in a runoff election four years ago. Nearly half of El Paso Democratic Primary voters already had punched her name for the very office she was seeking. That's a huge advantage to have when your opponents are all first time candidates.
This meant Rosales was the favorite heading into the race, but I thought James Montoya would finish in first place, and be in a runoff with Rosales. I knew he was lacking Name ID, but I thought he could out campaign Rosales. Rosales has shown to be a middle of the road campaigner. She will knock on some doors and make some phone calls, but she doesn't work it as hard as I've seen other candidates. And she doesn't believe in paying people to do voter outreach. But she has learned the importance of mail, and doing at least some door knocks and phone calls.
As many expected, Yvonne Rosales and James Montoya ended up in a runoff. But Karen Dykes and Roger Montoya were a couple of wildcards in the race who could have really mixed it up.
No one ever heard of Karen Dykes before, but she was by far the most likable candidate in the race. She impressed anyone she got in front of. She was coming in with strong endorsements from former Mayor Oscar Leeser and Sheriff Richard Wiles.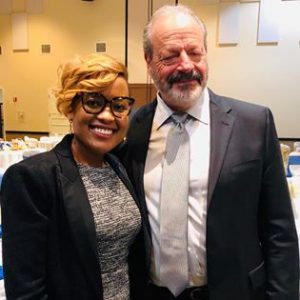 Word on the street early on was that she was well connected, and she would be able to bring in a lot of money for her campaign. She also hired campaign professionals, Eddie Holguin and Lily Limon (Sun Circle Strategies) to run her campaign. So many were wondering if she could actually pull it off.
Then there was Roger Montoya. It was obvious Roger was the big underdog in the race. But he was the first candidate to come out strong with a pro-marijuana stance, so I was immediately drawn to him. Knowing a candidate can't win doesn't stop me from voting for them, or working for them, if their values fit mine.
Roger's entry into the race was quite controversial because Roger was a donor to Yvonne in not only the last election, but this one as well. He's also her former fiance. He also happened to have the unique last name of her biggest threat. Many thought Roger entered the race to help Yvonne out by splitting the "Montoya vote", as some voters may get confused with which Montoya they wanted to vote for (which ended up not being an issue after all). Before I agreed to work for Roger's campaign, I did ask him. He denied the accusation, saying he realized he didn't think Yvonne had what it took to win, and the DA's office would be better off in his hands.
But Roger had bigger problems than No Name ID or no money. He had a criminal past. It is very important to know what comes up when a candidate's name is Googled. If you google Roger Montoya, news stories about his criminal past are the first things to pop up,"…he was arrested several times, including two times each for discharging a firearm in a certain municipality and deadly conduct". A lot of the voters on the campaign trail said they liked Roger's message, but that they never heard of him so they would do some research. Well, any voter that hopped onto google was immediately shown these negative news stories. Even if Roger had a huge budget to have a sophisticated campaign, he still may have finished in fourth. A criminal past like that is really hard to overcome in a single election season, especially when running for DA.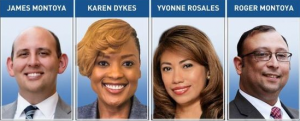 Final Election Results:
Yvonne Rosales     39%
Karen Dykes           18%
Roger Montoya        9%
James Montoya     34%
Expenditures/Contributions (Up to 8 day before report)
Yvonne Rosales        $24,715/$34,180
Karen Dykes              $35,832/$63,879
Roger Montoya         $7,452/$8,461
James Montoya       $84,850/$60,485
The money tells a lot of the story. Dykes's fundraising efforts did not disappoint, but she only spent a third of what James spent. The biggest mistake a candidate can make is not spending their money early in the race. We saw this same story in HD76, not enough money spent early on.
Yvonne Rosales held par. She was the Name ID candidate heading in, and she raised and campaigned enough to hold off James Montoya.
Roger's fundraising and expenditures match his election result. It was just way too little to give him any realistic chance of making a runoff. Even without the negative news stories, Roger likely would have finished in 4th having this small of a budget. Roger had a great message, but you have to have the funds to get your message out to voters if you're going to have any chance at all.
Consulting and Management
Rosales-$0
Dykes-$5,525
Roger-$1,250
James-$0
Whoa! What happened here? How did the two candidates with zero expenditures on consulting and management end up in the run off? Let me explain.
While an expense for management didn't come out on the finance reports, both of them had it. Yvonne Rosales's law partner managed hers, and Jaime Abeytia managed James Montoya's.
Let's remember, Rosales paid for consulting services 4 years ago for the same office she's currently running for. She went through the motions of an entire campaign that included a very close run-off race. So that campaign gave her not only Name ID for this race, but also knowledge and experience she didn't have in her first election. No doubt she learned a lot about what works and what doesn't in her last campaign. She knew she was going to have a tight budget once again, and decided she knew enough about campaigns to not have to spend funds on consultants. Especially since she wasn't going to have a paid canvassing program.
James Montoya had the current DA, Jaime Esparza backing him. Esparza has tons of campaign and political experience, so no doubt James learned a lot about what he needed to do before even getting started. Say what you want about Abeytia, but the guy knows enough about campaigns to make any candidate with a budget competitive. Who knows why Abeytia appears to be working for free. I'm pretty sure he isn't. It's possible they have some sort of deal where he is paid at the very end that includes a win bonus. Because unlike Rosales, James had a big canvassing program. A campaign like that needs management. James's canvassers were very well compensated, so it is likely some of them took leadership roles in helping Abeytia, as Abeytia was spread amongst 4 campaigns, including his own.
Karen and Roger were first time candidates and brand new to the campaign world. I think a lot of first time candidates think they have it figured out with enough volunteers not to hire anyone. But as you get deeper into it, it quickly becomes clear why professional help is needed. I'm sure Sun Circle got Karen much more ahead in knowing what she needed to do than she would have known without them, but word on the street is that Eddie and Lily  weren't very present. They had other clients, including Eddie's wife, to keep them busy. Making a runoff was always going to be tough for Dykes, no matter what, so I don't want to say it was all her management's fault, but clearly some poor decisions were made on this campaign.
Then there's my candidate, Roger. I never met, or even heard of Roger, until after he announced his candidacy. He was already at a point of no return by the time I met with him.  If I had known him before, and had a chance to consult with him, I would have told him not to run if the goal was to win, as I have had to tell several potential candidates in the past. He would have needed AT LEAST 60k to have a chance. And even then, especially with the criminal record, he could have still fallen short of making a run off. Understandably, with a budget as small as his, he felt he couldn't afford me. But as has happened several times to me with other candidates who first declined my services, I later got a call from Roger saying he needed help with his VAN (voter database). Being that Roger was the candidate I was already going to vote for, and no one else in the race was offering me a check, of course I accepted, even though I knew we had little to zero chance of making a runoff.
The hardest part of the campaign was having to have a heart to heart with his volunteer campaign manager, who was stressing out about falling short. I felt it was in his best interest to keep expectations realistic. I told him we were in a tough spot going up against big money and big name ID and that I would consider it a win if we finished in 3rd. I told him we believe in Roger so we are going to continue the work and give him his best chance. The next day I got a call from a distressed client (Roger) asking me what we need to do to finish better than third. That was tough. I wasn't expecting Roger to know what I said, so I stumbled with a response that was along the lines of "upsets happen every election night so anything was possible, but the fact remained that we were in a distant 4th place when it came to fundraising, and that's why finishing in 3rd would be considered an upset". Roger and his volunteers worked hard, but it was too high a hill for us to climb.
Blockwalking
 James $9,359
Rosales $0
Dykes $2,800
Roger $1,220
When you're the name ID candidate you don't need to work as hard or spend as much money. But Yvonne Rosales should have anyway. I think this was a big mistake on Rosales's part. Had she matched James's efforts in blockwalking she probably would have won without a runoff. Instead she is fighting for her political life for an extra 4 months. And this is why I thought James would finish ahead.
I thought James was going to do about $20k in blockwalking. He had the budget to, and I think his campaign team is smart enough to know that they should have, but I'm guessing they didn't have the management capacity to pull it off. It's one thing to have a campaign team that knows what they are doing. It is another to have leadership physically present. They should have hit $20k in blockwalking, but it's hard when the regulars are spread out amongst all the campaigns, and you don't have a full time Field Director to recruit more and provide more blockwalking opportunities. Had James had a fulltime Field Director and spent $20K instead of $9k, he would have definitely finished in first place. Maybe even won outright.
Karen also had the budget to do $20k in blockwalking, instead she did zero. Wait, what about the $2,800? Oh that. Usually blockwalkers are paid in odd amounts and several payments. But these were two guys I never heard of who were paid in a lump sum. Good for them though, I guess. I've seen this story before. Check it. Lily and Eddie aren't field experts. And even if they were. Did they create their walk lists, spot check their work, verify with voters? Who was the one making sure this was really getting done? I know there were a couple of Facebook posts of Saturday morning blockwalks with volunteers from the Karen Dykes campaign, but I've seen that story too. Volunteers eat their breakfast burrito, take the pic that's going on Facebook, and do an hour of blockwalking in groups of 2 or 3. It's pretty close to doing nothing, but you feel good about yourself, like you made a difference. This election season I was blockwalking all over the county and ran into door hangers from many campaigns, but never once did I ever see a Karen Dykes hanger on a door. In fact, Karen spent almost nothing on printed campaign materials. You can't blockwalk without printed material!
Printed Campaign Literature:
Yvonne Rosales    $1,587
Karen Dykes          $222
Roger Montoya      $1,817
James Montoya     $8,646
That's how I know the Karen Dykes campaign did zero blockwalking. Let's take a look at some other expenditure categories and wrap this up.
Mail
Rosales $6757
Dykes $5641
Roger $0
James $32,441
Signs
Rosales $6,916
Dykes    $5,017
Roger    $530
James   $8,796
Billboards
Rosales $4,750
Dykes     $5,369
Roger      $0
James    $16,593
Social Media
Rosales $0
Dykes $250
Roger $389
James $2,700
TV
Rosales $0
Dykes    $7,277
James   $0
Roger    $0
Let me just say this on TV commercials. Every year they become less and less effective. It is better to put your money in social media if you have a tight budget. You shouldn't even be thinking about TV unless you have raised $100k+ for your campaign.
Conclusion
Karen Dykes had a real chance to pull a serious upset. She was the number one fundraiser, but she still had $28k in the bank with less than 10 days to go, by which point she was already heavily outspent by James. By then a significant portion of the votes were already cast. The majority of a candidate's spending in local races should be 2-3 months before Election Day. It's way too late when playing catch up 10 days before. It is possible she thought a runoff was a sure thing and she felt she needed to save that money to compete in the runoff. That is always a huge mistake. You have to spend every penny to give yourself the best chance of even making a runoff. A candidate shouldn't have to worry about not having enough money for the runoff. One, the campaigning done before the runoff helps secure votes for the runoff. And two, more money will come once you're in a runoff. Trust me.
I think the election results were a shock to Karen Dykes. If she would have spent 10k on a REAL field program she would be in a run off today. For your average voter, she was clearly the most likable. But instead she fell 20 points behind a candidate she outraised by $30k.
This is yet another example of endorsements being meaningless.
Yvonne Rosales finished in first place because she had a huge head start heading into this one, thanks to running for this same office four years ago. I mean, she nearly won that runoff. The other candidates were playing major catch up. So kudos to Yvonne for meeting expectations by piggybacking off her own hard work from her first campaign. But Rosales barely did enough to stay ahead of James. If Yvonne had matched James's field program she would have been dangerously close to winning without a runoff.
James clearly had the best campaign. He stayed close behind Dykes in fundraising, and was willing to put over $20K of his own money into his campaign. One thing I would have liked to see James do is put at least half of his billboard expenditures into blockwalking. It probably would not have been enough to win outright, considering Rosales's Name ID, but it would have certainly put him ahead of her.
Predictions for Runoff
It's going to be close, like 53%-47%, and it could go either way. We can make a better assessment once the 30 Day Before reports are out (June 15th). But right now, I have to give the edge to James. He demonstrated he clearly knows how to campaign better. I think he will spend more money and make more voter contact, but the question is, will it be enough? I know both campaigns are hitting the phones right now, and I'm pretty sure James is doing more, but Rosales just needs to keep pace. Her Name ID is even stronger amongst primary runoff voters, so that will be a challenge for James to overcome. It will also be interesting to see what mail they send out. That will have a big impact on the final election results.